Five years from now, over one-third of skills (35%) that are considered important in today's workforce will have changed. By 2020, the Fourth Industrial Revolution will have brought us advanced robotics and autonomous transport, artificial intelligence and machine learning, advanced materials, biotechnology and genomics.
These developments will transform the way we live, and the way we work. Some jobs will disappear, others will grow and jobs that don't even exist today will become commonplace. What is certain is that the future workforce will need to align its skillset to keep pace.
A new Forum report, The Future of Jobs (http://www.weforum.org/reports/the-future-of-jobs) , looks at the employment, skills and workforce strategy for the future. The report asked chief human resources and strategy officers from leading global employers what the current shifts mean, specifically for employment, skills and recruitment across industries and geographies.
The INNOVATION 4.0 Curriculum presents a disruptive educational approach to Leadership and Innovation with an emphasis on Talents that cannot be automated and are correlated with long-term high income potential.
The INNOVATION 4.0 Curriculum is designed to be taught by any adult to any audience – there are no technical or "STEM" (Science, Technology, Engineering, Math) skills present in the Curriculum. Instead, the Curriculum is meant to be utilized by teachers, parents, coaches, mentors, administrators, and others, as they prepare future leaders and innovators to embody their values, build trust, harness their inspirations and frustrations, create, collaborate and communicate, tackle the world's greatest challenges, and launch future-proof careers.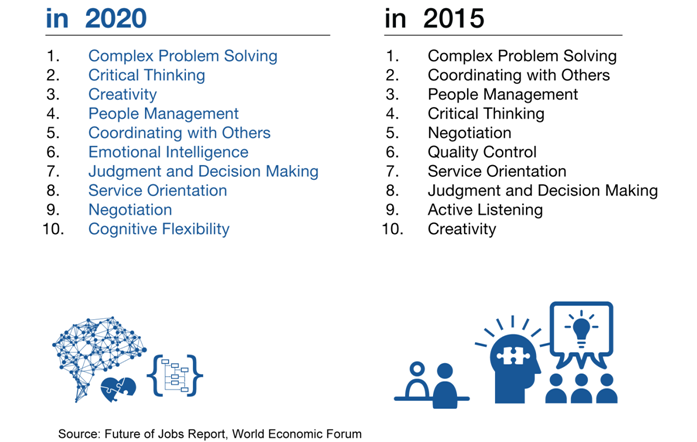 The World Economic Forum's Talent Model for 2020
The World Economic Forum ("WEF") published a Talent Model of the 10 most "Critical Skills for the Workforce of 2020". The WEF Talent Model for 2020 highlights the following Critical Skills:
Complex Problem Solving
Critical Thinking
Creativity
People Management
Coordinating with Others
Emotional Intelligence
Judgement and Decision Making
Service Orientation
Negotiation
Cognitive Flexibility
The Curriculum and Lesson Plan
E-mail curriculum@curtisleadershipfoundation.org for more information on how you can use our curriculum in your program.
The curriculum includes a 92 page Teacher's Workbook and a 44 page Student's Workbook, along with video, podcasts, social media, and a reading list. INNOVATION 4.0 can be taught with three different lesson plans:
A 52 week, 90 minute per week mentoring program focused on self-paced student content creation
A 1 Semester, stand alone class, focused on in-class content presentations
A framework approach that integrates into an existing educational program
INNOVATION 4.0's curriculum modules
Values and Ethics as a foundation for creating TRUST in HAVOC
HAVOC: Humility, Authenticity, Vision, Opportunism, Compassion
TRUST: "The Right Understanding Secures Trust"
2. How to build Trust Platforms that tackle Abstract and World-Changing Objectives (How to "Boil the Ocean")
3. A Suite of Innovation Skills known as "WC3"
Inspired by Simon Sinek, Innovation that starts with "Why" through Inspiration and Frustration
Inspired by Apple and Peter Thiel, Creativity with the Design Thinking Process and getting to a "Secret"
Inspired by Google, Collaborating based on Project Aristotle
Inspired by Dan Roam and SAP, Creating Business Content and Communicating it in Public
4. Leadership Principles inspired by GE, the US DoD, the FBI, Accenture, IBM, and Others
E-mail curriculum@curtisleadershipfoundation.org for more information on how you can use our curriculum in your program.
The Reading List
Finally, INNOVATION 4.0 includes an extensive Reading and Watching List, including:
Hidden Figures by Margot Lee Shetterly
Antifragile by Nassim Nicholas Taleb
Victory through Airpower by Walt Disney
Extreme Ownership by Jocko Willink and Leif Babin
Crazy Bosses by Stanley Bing
As well as TED Talks like Simon Sinek's Golden Circle and Keynotes like the iPhone App Store Launch.
E-mail curriculum@curtisleadershipfoundation.org for more information on how you can use our curriculum in your program.
Phase 1 Pilot
The Police Athletic League (PAL) partnered with the business community in early 2017 to pilot the INNOVATION 4.0 educational curriculum, completing pilots in Cleveland, Ohio and Flint, Michigan PAL chapters representing 40 students from 3 public high schools. The pilot was a huge success, and drew high praise from participants and parents. Now, National PAL and its partners are preparing for national distribution of its educational program to 500 PAL Chapters nationally.